Carolina Cornea
Do you know the difference between Co-management and Total Surgeon Care LASIK Eye Surgery?
In Greenville, Spartanburg, and Clemson, you will find LASIK facilities that offer either Co-management or Total Surgeon Care LASIK. As a discerning prospective patient, you should know the difference if you are considering LASIK eye surgery.
Below is a chart explaining the differences: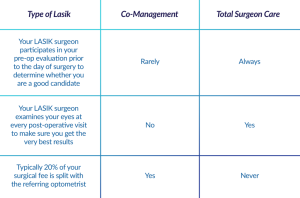 At Carolina Cornea and Laser Center, ALL of our LASIK patients get Total Surgeon Care LASIK.  We are the only facility in Greenville, Spartanburg, or Clemson, SC providing that uncompromising care.
Ready To Get Started?
If you're ready to get the process started, call our office at Carolina Cornea and Laser Center in Greenville, SC to make an appointment for a LASIK evaluation.  During this free 2 hr evaluation,  you will experience the most thorough eye examination of your life and you will see why Total Surgeon Care LASIK means better vision.